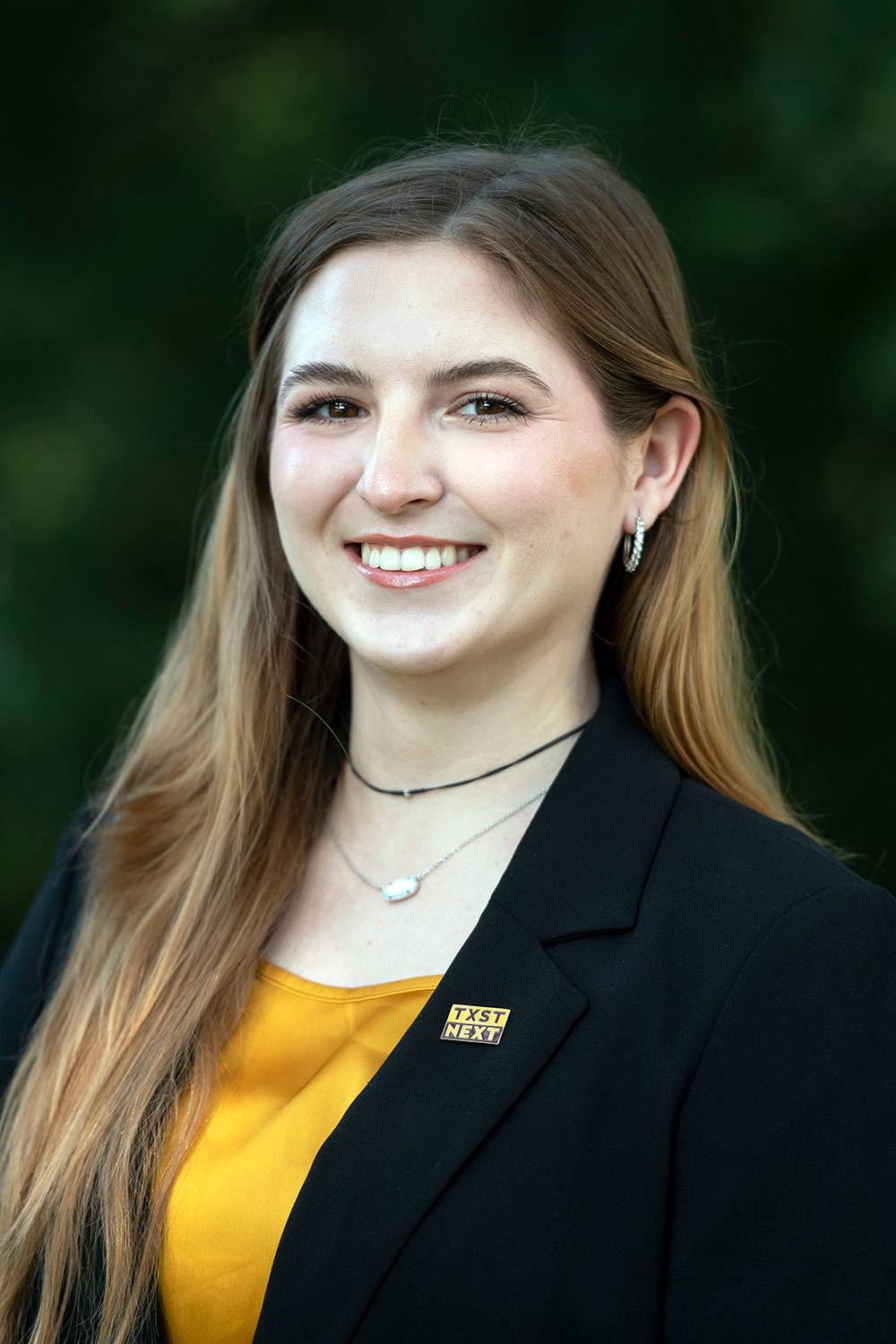 Admissions Counselor
512.655.9916
Territory:
North Austin High Schools (Florence, Hutto, Jarrell, Leander, Liberty Hill, Llano, Marble Falls, Pflugerville, Round Rock, Taylor, and Thrall)
Waco, Temple, and Killeen Area High Schools and Colleges
Panhandle Area High Schools and Colleges
Hometown: Lexington, Texas
Alma Mater: Texas State University
Majors/Degrees: Bachelor of Arts in Psychology with a minor in Sociology
How would you describe the atmosphere at Texas State?
The atmosphere of Texas State is uplifting and accepting. Texas State wants our students to succeed, and you can feel it in every student, staff, and faculty member. Part of what makes our university so unique is how much it feels like home. Everyone is provided for and supported each step of the way, no matter the pathway or program. Texas State is a community of incredible people, eager to welcome newcomers.
Why did you choose to become an admission counselor?
I am passionate about interpersonal communication and have always enjoyed providing guidance. I remember how overwhelming it was as a senior, facing deadlines and decisions; I want to be able to give students the resources and information they need to be successful throughout the process and feel confident along the way. College should be exciting, not stressful.
What advice do you have for future students?
Take the time to explore jobs related to your interests. What are you passionate about? Pick something you enjoy and want to know more about. You can search for jobs and careers related to your interests and hobbies to narrow down degree programs. Don't stress too much about the little details and take it one step at a time. Nothing is irreversible but prioritize finding something you care about.